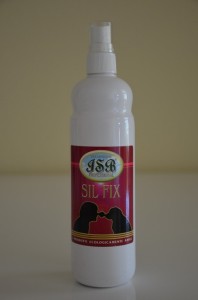 I decided to try this spray for confirmation show. I wanted to test a dog product as opposed as a human hair spray. The coat needs to be very flat on the top of the head so I gave it a shot. In the end it was too sticky and did not give a natural look. I will go back to a super light human hair spray. It does a much better job and leave a natural look to the coat .
http://shop.ivsanbernard.info/SIL-FIX-250-ml-1030.htm?categoryId=-1
Setting the hair.Non-aerosol spray.
Promotes pigmentation stability after long exposure to the sun.
This lacquer improves water resistance as well as repairs and adds body to the coat.
Excellent for setting top knots and ponytails.Environmentally friendly lacquer developed to add consistency and body to the coat. In addition to its setting qualities, it also repairs the coat. Its specific composition gives the coat shine and improved water- resistance, while promoting pigmentation stability even after long exposure to the sun.