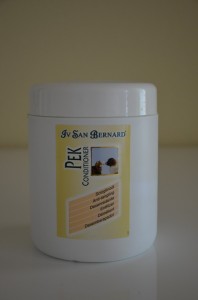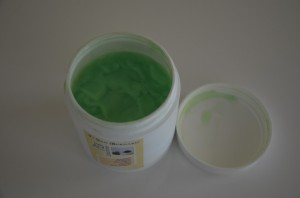 I bought this conditioner for their coat tangles and the nourishing promises.
I used this  pek conditioner after shampooing the coat.I mix it with the banan conditionner and apply it on the coat. Let it sit 3 min to be absorbed, gently brush and rince with warm water.
http://shop.ivsanbernard.info/PEK-CONDITIONER-1000-ML-0552.htm?categoryId=-1
Fantastic results !: Pek Conditioner: contains vegetal and marine collagen. Provides elasticity to skin. Neutralizes the negative charges on hair. Nourishing cream: Can be used in concentrate form on matts or mixed in small amounts into the balsams for extra conditioning. Mixed with water in a spray bottle, it gives volume to the coat and makes dematting and fluffing much easier. Cream for loosening difficult tangles. Its collagen and proteins provide elasticity and softness to the pet's coat, returning it to the right moisture balance. Instructions for use: After shampooing, apply a sufficient amount of cream on the coat and leave it for about 3 minutes. Brush or comb the coat and rinse thoroughly with warm water.