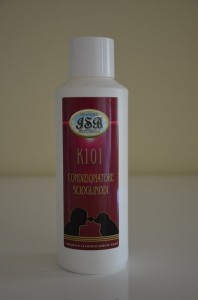 I recently had a chance to try this conditioner ( I had other products to finish first) and let me say this is the best conditioner I tried so far.
The coat stays moisturized, shiny and soft for days after washing them. I was really impressed with this product.
Based on my experience it's a keeper and the best part is it works great for both of my pekes so it is easier to manage.
I simply dilute it 1:90  with warm water in a big bottle, shake it,  pour it on their coat and let it rest while I wash their face.
I give them a quick rince and that's it.
http://shop.ivsanbernard.info/K101-DISENTANGLING-CONDITIONER-500-ML-1016.htm?categoryId=-1
The product description is :
Incredible deep conditioner made from avocado oil. Fantastic for dematting and for restructuring damaged hair.Dilute 1:90 with water for restructuring and light dematting. For severe matts, use pure and massage directly into tangles.Provides a shiny, silky coat.Specially developed to give a shiny, silky coat. Thanks to its moisturising properties, K101 stops dry coats looking dull and lifeless, makes them easier to groom and prevents tangles from forming. K101 saves you valuable grooming time.