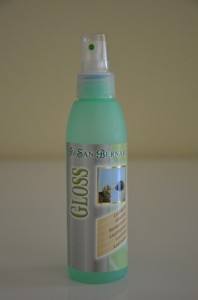 I bought this gloss to finish up after giving them a bath and completely dry them as I wanted a shiny finish for their coat. i thought this would work good, especially for show events. It didn't really work. I think their coat is too coarse for this kind of product.
http://shop.ivsanbernard.info/GLOSS-125-ML-0606.htm
This is what the products promised:
Made with silk proteins, it is an excellent glossing product and imparts a beautiful gloss and shine. Gorgeous on golden retrievers and to accentuate highlights after a pigment treatment. A little goes a very long way.Glossing for the coat. It gives shine and silkiness to the hair. Designed to nourish without making the coat greasy.