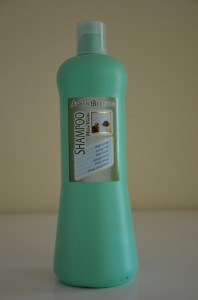 This is the IVSan Bernard long coat green apple fragrance shampoo.
I used it as is, it lathered a lot and give shininess and softness as promised for one dog, however my other peke's coat got greasy.
This shampoo needs to be mixed 1:3 with water as it is concentrated.
http://shop.ivsanbernard.info/GREEN-APPLE-Mela-Verde-SHAMPOO-1000-ML-354.htm?categoryId=-1
The bottle suggests to dilute 1 part of shampoo to 3 parts of water; I tried once but wasn't satisfied with the result, it did not wash as well as used pure. You don't need to use a lot when used pure.